BELLY BANDS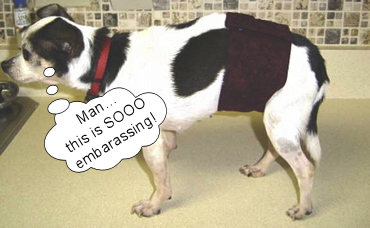 BELLY BANDS: Made specifically for small male markers or incontinent males. These bands are constructed of top-quality flannel, lined with double faced terry cloth and closed with a four to six inch Velcro overlap (depending on size of animal).
The bands may be used with a light-weight pad or alone to protect your household. Completely machine washable and dryable. I find the band alone is absorbent enough to provide protection for my small males during the daytime hours. A small pad may be used for additional overnight protection.
All proceeds from sales of bands are donated to Chihuahua Rescue and Transport to support rescue efforts.
To order: Measure your dog around his waist for exact inches (it's bigger than you think!). Send the measurements plus your dog's weight to Gloria at ttan_r1@yahoo.com
Gloria will send you the total cost and mailing information. Bands will be sent via regular mail within 24 hours of payment receipt.
All checks should be made payable to Chihuahua Rescue and Transport. You may also use Paypal on our website, but first email Gloria regarding size and total price.
Cost: $5.00 each or 3 for $13.00
plus postage

Sizes
Small
Medium
Large
10 to 13 inches
14 to 17 inches
18 to 21 inches